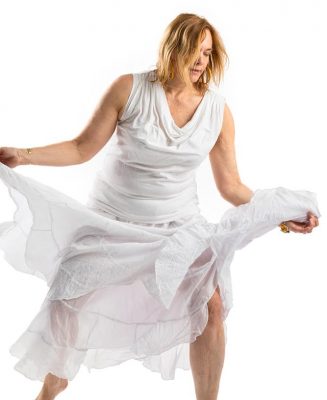 Restorative Movement Psychotherapy (RMP) is unique in its integration of the Polyvagal Theory, movement as primary language, dance as creative expression, with mindfulness and arts based therapies. This holistic approach focuses on the creative process and embodiment as focal to the restorative process. This psychotherapeutic practice does not focus solely on somatic awareness or theory; the contemplative and indigenous influences enhance clinical intuition, deep listening, embodiment and creativity in therapeutic and healing practices. RMP does not shy away from the power of the human spirit in healing.
The Body as Voice: RMP for Survivors of Trauma series is Alternate Route approved for those pursing their BC-DMT. It is also approved for CE's for a vast variety of mental health and other professionals by R. Cassidy Seminars. The Alternate Route program is currently taught as 3, 4-day intensive trainings and is appropriate for those with some background in Dance/Movement Therapy, Somatic Psychology or other embodied approaches to therapy. For other professionals and disciplines, it is tailored in 3-5 day modules offered in a culturally appropriate frequency. Both the Poto Mitan Framework and RMP are described or referenced in several publications.
The three part series in Restorative Movement Psychotherapy is taught as:
Body-Mind, Beginners Mind: Focus on embodiment, self care, self compassion and self-practice. Emphasizes body and movement based stabilization sequences for working with traumatized clients.
Body Wisdom, Body Narratives: Focus on dyadic healing, reciprocal alliance; clinical intuition and clinical reciprocity to facilitate processing traumatic histories and wholistic integration.
Body as Voice: The Collective Body: Focus on group work, from small groups (including families) to large groups and community-based mental health. This "playshop" is a dynamic synthesis of Creative Arts, Dance and Movement, and Rhythm and Voice.
What participants have to say about the training series:
"This training transformed my embodied knowledge of trauma, its process and healing trajectory. On top of unpacking important theories, the course is especially thorough in integrating opportunities for experiential understanding. I really appreciated the rich case studies and demos Amber brings into the course, and opportunities to work in smaller groups or dyads to explore therapeutic applications and our own relationship to this work. Perhaps the most powerful for me, Body as Voice helped restore and enhance my own self-compassion and a more authentic presence with others."
"Amber's trauma training has helped bring awareness to the subtleties of movement within me and with others. She offers tools and language to observe human movement and interaction that I have not learned anywhere else. She is passionate about using dance movement therapy to support healing trauma, and her passion is contagious. Amber cares deeply and is incredibly generous in sharing her vast skill and knowledge. She is sincerely committed to her students."
---
Body as Voice is Amber's complete, trauma-informed approach to DMT and somatic psychology and is the fullest expression of her training offerings. Other shorter and topic specific trainings are also offered:
Body as Voice: Restorative Movement Psychotherapy for Survivors of Trauma Training Series
The HeArt of Embodied Resilience
Restoring Core Rhythmicity: Polyvagal-informed Movement Therapies
Roots, Rhythm, Regulation: Ancient Practices for Modern Healing
Rhythm, Regulation and Reciprocity: Cultivating Clinical Intuition and Reciprocity
Compassion Resilience: A Self Care Playshop
Trauma and The Moving Body: Our Clients, Our Selves