Join Amber and her beloved colleagues for the Embodied Psychology Summit. Amber will be presenting "Right to Embody" on Thursday, July 23, 2020 at 2 PM EDT.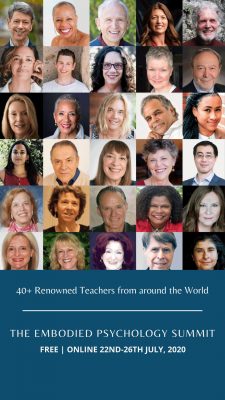 This is a wonderful opportunity to learn with over 40 world renowned teachers and therapists to optimize humanity, connection, and well being.
The intention of the summit is to empower our world community with the wisdom of body and potency of somatics as a process for deep healing. We are specifically focusing on somatic therapy for healing trauma, stress relief (including race-based somatic stress relief), attachment and intimacy, embodied social justice, psychedelics in therapy, spirituality and healing, applied polyvagal theory, mindfulness, resilience, inner connection work, and so much more.
We all need this now more than ever.
Reserve your spot for FREE & immediately receive 10 bonus items.